Can you believe that the holidays are already over? I'm terribly sad about it because I got into the holiday spirit way early this year! Our Christmas tree was up right after Thanksgiving and that NEVER happens. Oh well, as much as I love Christmas it's time to pack up the decorations, purge the holiday stations from Pandora and start getting ready for the new year!
ONE
We got some pretty sweet decorations this year. I picked out a few Star Wars characters for Shawn (Darth Vader and R2-D2, if you're curious) so I had to grab myself a new ornament. Owls are the animals to love this year! You can't go two steps without seeing something with an owl on it, which is REALLY good for an owl lover like myself. So I couldn't help myself when I spotted this at the store. I mean, it would have just been wrong for me to not pick it up, right?
Teddy
TWO
My husband and I are the happy owners of three cats. Now granted, I get really sick of the hair and kitty litter, but I really love having them in our family. Now a few months ago, while friends were visiting, the door got left open, Needless to say one of our cats, Teddy (the gray one!), got out. All of our cats are indoor cats and are pretty helpless. I hate to admit it but I panicked a lot more than I thought I would! I also felt really terrible because it was in those moments, I realized we didn't have any pictures of them. I mean we had a few cell pics but you couldn't tell what our cats actually looked like. So I decided that I needed to get some goods pics of them, in case one of the cats got out again.
BTW- Teddy was fine. We found him under one of our neighbors house a few days later. After half an hour of bribing with toys and wet food, had him back safe and sound.
Laylee
Isabel
Christmas brought me lots of wonderful gifts. The one's I'm most excited for are the books I received.
My husband purchased me the box set of The Hunger Games Trilogy, which I've read numerous times on my Kindle.
He also purchased The Divergent Trilogy. I've only read the first book so I'm really excited about finishing the series!
Then the dear husband bought me three of the Fear Street novels! A few months ago my husband and I were talking about Goosebumps (we have very refined adult conversations if you haven't been able to tell) and I told him that I LOVED the Fear Street books more than anything. It cracks me up that he surprised me with them and honestly I'm totally going to read them!
FOUR
Speaking of books, I'm a bit ashamed to say that I ordered........eleven....yes you read that correctly... ELEVEN books with Christmas money I received. They should all be arriving on Monday and I may feel a little overwhelmed, especially along with the books my husband bought me. Goodbye social life! (Who am I kidding? I don't have one..)
This is just a picture of my first order. I feel really bad for my husband and our UPS guy. (They're being shipped to his office, as we don't live in a safe location to drop off packages.)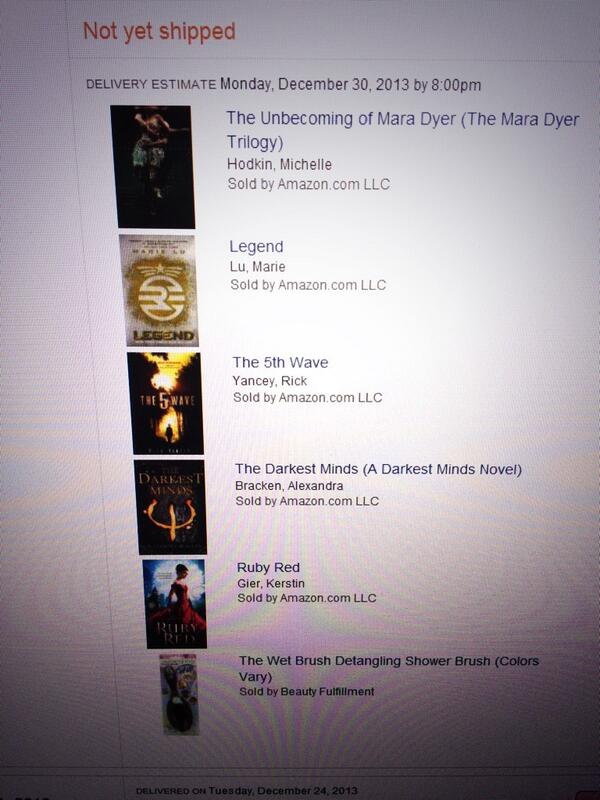 FIVE
I had a visit with my doctor yesterday about a couple things. My back has been a chronic problem for a few years and it seems to be getting worse. I explained that not only do I have the preexisting condition in my upper and mid back but now my tailbone has been killing me for months! So I had xrays ordered and blood drawn. It was the weirdest thing. I've had blood drawn before and actually donated blood while I was in college. I got a little light headed when I donated but I've never had a problem with needles before.
Yesterday I was a HOT MESS! I was so nervous, shaky, couldn't look at the needle, and left sweat all over the armrest. I wanted to cry and run out to find my husband. I've NEVER reacted that way, it was ridiculous! My doctor's nurse was very nice but he could obviously tell that I was upset. He had to stick me twice. Once in the right arm and second on my left wrist. I got very light headed and it was taking FOREVER. After he was done I looked down to find he had taken FOUR vials of blood! Good Lord. I almost passed out right there. My doctor is calling me with results next week.
I gotta stop talking about it. I'm freaking myself out! My husband was wonderful afterwards and took me out for lunch. It was just what I needed.